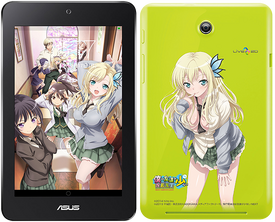 The Haganai Tab Sena Model, or the Haganai Tablet, is a limited edition Boku wa Tomodachi ga Sukunai tablet created by ASUS. The tablet revolves around the character Sena Kashiwazaki. It was released March 4th, 2014.
This tablet is a limited edition version of ASUS' MeMO Pad HD 7 tablet. It has a character print of Sena Kashiwazaki on the back panel. Upon release, the tablet was on sale for 30,000 yen (about 252 dollars). Later, sans the sale, the item's price was around 43,000 yen, which is roughly 395 dollars. Only 400 units of the product were made.
The tablet runs on an Android 4.2 operating system with a 1.2GHz processor. It comes with two cameras, the outer camera being a 2 megapixel and the inner being a .3 megapixel. The tablet has a max memory of 1GB and its internal storage capacity is 8GB.
Among the tablets usual specifications, this version has a number of exclusive features. There is a dance app which allows the user to make Sena dance however they like, an application that makes Sena react to the user's touch and a "Military Sena" in which you must disassemble Sena dressed as a tank.
Though the tablet's release date was March 4th, a demo version was on display in Akihabara's Kotobukiya in their Haganai Corner on the third floor.
Community content is available under
CC-BY-SA
unless otherwise noted.