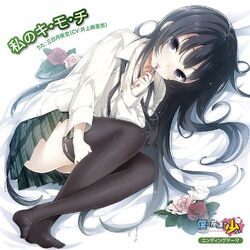 My Feelings (私のキ・モ・チ, Watashi no Ki-mo-chi) is the ending theme song of season one of the Haganai anime. It was solely performed by Marina Inoue.
A single titled Boku wa Tomodachi ga Sukunai ED Single - Watashi no Kimochi was released in Japan on November 25, 2011 under the Media Factory label and consists of a single disc. The disc contains four tracks lasting a total of 15 minutes and 21 seconds. These tracks being:
My Feelings (私のキ・モ・チ, Watashi no Kimochi) - Track Length: 3:48
Atashi no Kimochi (あたしのキ・モ・チ) - Track Length: 3:54
Watashi no Kimochi Original Karaoke (私のキ・モ・チ オリジナルカラオケ) - Track Length: 3:48
Atashi no Kimochi Original Karaoke (あたしのキ・モ・チ オリジナルカラオケ) - Track Length: 3:51
Composed By
Edit
Arranged By
Edit
Performed By
Edit
Marina Inoue
Kanae Ito
Yukinori Hijikata
Rei Kudo
Tom-H@ck
ENA☆
yamazo
Lyrics By
Edit
Rōmaji (Anime version)
Edit
A-nounai souzou risou no genjitsu touchi
Imasara docchi datte ikkedo tomodachidzukuri
Hitori sabishii yatsu da to sagesumu shisen ga ki ni naru
De, uwaddzura dake atsumattara
Sore de ii to omotteiru uchi ni
Are yo are yo to toujou
Sorotte hatenkou na yatsura ni
Mai pe-su midasareteyuku atamakuru toku ni nikkuki niku
Watashi no mune hisoka ni asette yuujuufudangimi de
My heart tsutaerarenai
Zannen na no ha watashi na no ka?
Moya moya wo kakiwake Today!
Okizari ni sareta otomegokoro
Ano hi kara nayandeiru
Hayaku mitsukedashite maigo no kokoro
Ah, I'm in denial about how my plans never work
I don't really care about it, but I'll try... "making friends"
I don't like those look of pity thinking I'm all lonely
But just when I thought I would pretend
And having fake friends would be fine...
Something happens and they appear
And they keep coming, the crazies
Ruining my pace, the blood to my head, and that blasted Meat!
My thoughts jumbled in a quiet panic, and I can't decide
I can't tell you how I feel
Am I really the unfortunate one here?
I'll push my feelings through today!
My pure heart left standing there
I've been worried ever since that day
Hurry and find it, my lost heart
Characters
Edit
By order of appearance:
Community content is available under
CC-BY-SA
unless otherwise noted.