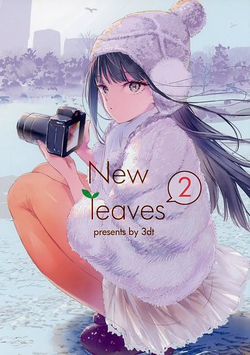 The New Leaves books are a set of doujin art books by Itachi. The second book in the set primarily focuses on Haganai artwork from the manga series. Book one was sold at Comiket 93, book two at Comiket 95 and book three at Comiket 96.
New Leaves
Edit
This book, also titled the To Heart Shizuku Kizuato fanbook, contains artwork regarding the To Heart, Shizuku and Kizuato series.
New Leaves 2
Edit
This book contains mainly artwork from the Haganai manga series. Primarily work Itachi drew and posted on his Twitter.
New Leaves 3
Edit
Itachi describes this as a mixed illustration book.
Volume Information
Edit
Release Date: -
Volume One: December 31, 2017
Volume Two: December 31, 2018
Volume Three: August 11, 2019
Page Count: -
Volume One: 20
Volume Two: 20
Itachi goes by the pseudonym, 3dt, when publishing these books.
Community content is available under
CC-BY-SA
unless otherwise noted.