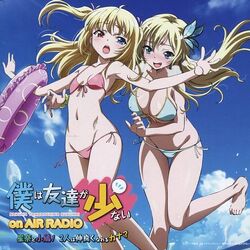 Sena and Kobato! Can the two of us become friends? (星奈と小鳩!2人は仲良くなれるカナ?) is a limited edition installment in the Boku wa Tomodachi ga Sukunai ON AIR RADIO series featuring five tracks. It was given out at Comiket 82 on August 13, 2012. The CD had two guests, these being Kanae Itou and Kana Hanazawa.
The CD was later sold in a re-release on December 29, 2012 in a limited edition set version at Comiket 83. It was subtitled as Set Bath Version! The re-release came with the CD, a vinyl bag, a towel, a bath bomb and a body sponge.
Opening (オープニング)
Let's talk about "I have few friends NEXT"! (『僕は友達が少ないNEXT』について語ろう!)
Can you answer all? Ita Kanae & Kashiwazaki Hana Quiz (全部答えられるカナ?伊藤かな恵&柏崎星奈クイズ)
Ending (エンディング)
There is no today's! (今日のはがない!)
Other Volumes
Edit
Community content is available under
CC-BY-SA
unless otherwise noted.