St. Chronica's Academy (聖クロニカ学園(せいクロニカがくえん)), Hijiri kuronika gakuen (Sei kuronika ga kuen)) is a missionary school located in Tooya City. Tenma Kashiwazaki is the school's current chairman.
Background
Edit
The school was originally founded by Tenma's great-grandfather as an all-girls school. Tenma's father later became the chairman of the school and later, passed the position down to Tenma. Originally being a prestigious, girls-only school, Tenma shaped it into a more lax and co-ed one - something originally proposed to him by Noel Redfield in the past.
Appearance
Edit
The school is a rather large campus with a high school and middle school division as well as living quarters for the sisters/nuns.
The school has many areas, such as :
The chapel. It acts as a church. The Neighbor's Club is held in Common Room 4 here.
A swimming pool, which is a recent addition.
A library, where Kodaka would sometimes go to study for exams.
The Science room or the Rika Room. A special place for Rika Shiguma to stay and do her research alone.
The Board Game Clubroom is a club room.
The Infirmary which is basically the nurses' office.
Counseling Center - Mentioned by Kate Takayama in NEXT Episode 2.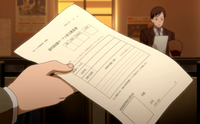 There are several clubs seen/mentioned at St. Chronica's. These being:
Though not seen, several students from class 2-5 are mentioned in Episode 11. Their names being Tanabe, Tsuda, Hirasawa, Fujioka, Horiguchi and Matsushita. Episode 12 furthers the scene, naming off Miyajima, Butou, Yaegashi and Yamazaki.

In the same scene, in the manga chapter Let's go to a beauty salon, several students' names are called out. Some of which are the same as in Episode 11. These students being Tanabe, Tsuda, Fujioka and Matsuda.

The school has a dress code and students have to wear different uniforms depending on the season.
Community content is available under
CC-BY-SA
unless otherwise noted.